Terry Morrow: Dolly Parton hooks up with Queen Latifah for royal duet

Even before filming begins on their musical-comedy "Joyful Noise," Dolly Parton and Queen Latifah -- an unlikely musical pairing if there ever was one -- got together in the recording studio recently.


"We were in (Los Angeles) doing some pre-records and had a good time," Parton said. "Oh, I am going to love working with her. I just love her. We are going to be very compatible personalities. We'll have tons of fun.
"We sounded great together, We were very happy. Our voices blended so well together.
We're doing one duet together with the choir
(featured in the film). I got to write four songs for the movie. The duet is a song I wrote."
Parton couldn't reveal much more about her musical contributions to the film, set for theaters near the end of January, 2012. "(The studio) doesn't want me to talk much about that right now," she said.
"Joyful Noise" brings Parton, a Sevier County native, back to the big screen after nearly 20 years. The comedy will focus on a widow who wants to take over her late husband's show choir but butts heads with the new choir mistress, a role Latifah will play.
"Joyful Noise" will begin production at the end of January, 2011, in Atlanta.
Source:
Knoxville.com
Current Mood:

excited
Queen Latifah is on the Poker Face by Lady Gaga Remix and I thought you guys would like a listen.
Current Mood:

bouncy
too
cute.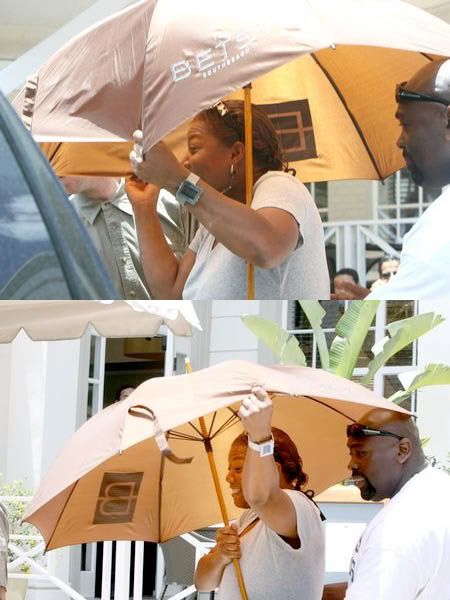 Who's excited for
Ice Age: The Meltdown
??!
Queen Latifah was spotted out and about in Miami, FL, yesterday. Looking
Current Mood:

creative
Here's something you don't hear every day - a celebrity host who cares about the welfare of her guests enough to send them home in cabs if they fail a breathalyzer test at the end of the night.

According to the National Enquirer (I know, I know - but they have become somewhat of a reliable source as of late), Queen Latifah made guests at her 39th birthday party prove they were sober before leaving the bash. Those who blew over the limit were sent home in a cab.

Guests included the off-again Samantha Ronson and Lindsay Lohan, Paris Hilton and her latest boytoy Doug Reinhardt, Kim Kardashian and Vivica A. Fox. I wonder which of them went home in a cab? Hmmmm...

Cele|bitchy points out that Queen Latifah lost her brother, an off-duty police officer, in a motorcycle accident in 1992. The bike he was riding was a gift from her; she now wears the key to it on a chain around her neck. Latifah was in an accident of her own while vacationing on the Virgin Islands, when she lost control of the scooter she was driving. She was mostly unharmed, though it must have given her the scare of a lifetime. From the sounds of it, these two incidents play a part in her desire to ensure her guests arrive alive.

Good looking out!
Current Mood:

amused
Ingrid Woode, of Sharonville, Ohio, will join Latifah in the studio to record Woode's original song "Fairweather Friend" for the upcoming "Persona" album, set for release this spring.
The 25-year-old Woode works a "day job" at a pharmaceutical company, said a spokeswoman for People's Choice, which conducted the contest with Latifah. The outcome was released online late Tuesday.
Latifah announced the opportunity when she hosted the People's Choice Awards in January, with aspiring singer-songwriters invited to submit tunes.
Latifah winnowed the submissions down to three, the songs were posted on the People's Choice Web site, www.pcavote.com, and fans picked Woode's work as tops.
SOURCE
Queen Latifah, who gave fans the chance to write and pick one of the songs for her next album, has a winner.
Current Mood:

amused
:: credit -
sincerely_jane
or
spattergroit
; i'm not picky
:: hotlinking is a no-no
:: friend the journal to keep yourself updated
::
affiliate?
:: please let me know if you're nominating any icons! ty!
::
f.a.q.
:: textless icons are
NOT
bases

084 -
the secret life of bees
(find the rest here)
ENJOY!!!
:: comment, i greatly appreciate it
Current Mood:

tired
Dancing with the Stars
but Queen Latifah was in the audience supporting her friend Lil' Kim, who did a
fantastic
job, by the way.
Queen Latifah is also narrating the show Russell Simmons Presents Brave New Voices, it's a documentary/poetry competition being shown on HBO so those of you that have it, should check it out. It's really great.
LINK TO THE VID
I don't know if you watched
Current Mood:

cheerful
I hear she is dropping a new album after ten years out the game, and Cool and Dre are helping her with the music. The album is called The Persona not sure how true this is yet but that is the rumor. It is scheduled to drop in late July, and we are looking for it and the singles. I am glad to see Latifah the Queen of Hip Hop back doing her thing.
SOURCE
I hope it's true!!!
Current Mood:

hopeful




Also, as most of you probably know, Latifah is working on her latest film Just Wright, where she stars as a physical therapist named Leslie Wright who gains the interest of said BBall superstar, only to find him distracted by a gorgeous she-devil. But all is not lost. There's a reason they're calling this a modern day-Cinderella story.

Sounds interesting!
There is a new FunnyorDie video starring Zac Efron where Queen Latifah and a host of other celebrities are featured.
Current Mood:

blah